THE FOLD COLLECTION
The Fold Collection is a modern exploration of circles and folds inspired by Bauhaus design principles of simplicity, primary colors, and geometric form.
The Fold Collection explores how a simple manipulation—a single fold—can bring dimension and contrast to geometric forms. The forms of the collection began their journey as paper mockups, then evolved into small, brass ornaments (pictured above) for Design Within Reach. Our founder, Corie Humble, worked to create forms that not only produce a three-dimensional shape, but also reflected light through two opposing planes, creating a warm glow. The shapes worked so well that we couldn't say goodbye just yet, and they evolved into the Fold Collection, a set of wall hangings five times larger than their holiday predecessors and much more colorful. The color selection process was inspired by the examination of color in the Bauhaus movement, and samples the range of this creative influence. More specifically, this collection draws from the graphic design of Max Bill, who created simple brass sculptures that have fascinated Corie, and inspired multifaceted exploration of static pieces.
Each piece is handmade in our studio in Austin, Texas, using locally-sourced materials and suppliers. The pieces of the Fold Collection begin as a sheet of steel cut into the basic form of the piece. The steel is meticulously sanded, and then it goes through the folding process that gives the collection life. These wall hangings also introduce a custom hanging hardware to achieve the apex of minimalist home accessories. The back hardware is riveted onto the piece, allowing it to hang flush from the wall in outward three-dimension. Finally, each piece is thoroughly powder coated by hand and topped with a matte finish which can be easily wiped down with a slightly damp cloth, making them durable enough to hang outside.
The pieces are powder-coated and can be installed indoors or outdoors, solo or in a group.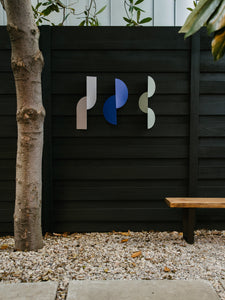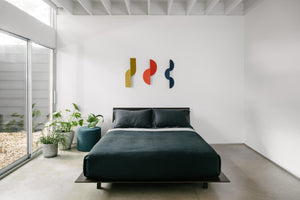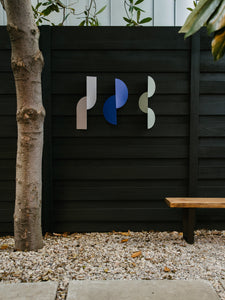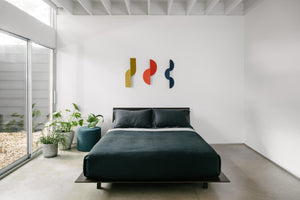 SHOP THE COLLECTION
UNIQUELY YOURS : LEARN MORE ABOUT CUSTOMIZING YOUR OWN. Contact Us >