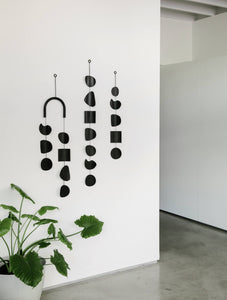 Material Edit
Black Patina
Our black patina finish has a velvety, tactile quality like natural black leather. It is created by the natural chemical reaction that occurs after hand-dipping brass into a darkening solution. Each component is then methodically buffed and coated with a matte lacquer to achieve a satisfying and lasting finish. Individual variation in each piece adds depth and dimension to accentuate their unique handcrafted nature. 
SHOP NOW
Mirror collection
The Geometric mirror collection echoes Bauhaus's interpretation of elementary shapes and form that flows into function. The collection embodies contemporary compositions with unexpected versions of basic shapes.  Individual mirrors of the Geometric collection can be hung as a single accent piece, or curated as a group to create an impactful installation.
Shop Now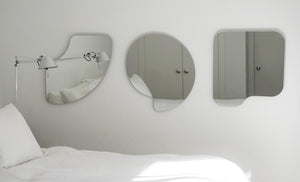 THE QUARRY COLLECTION
The Quarry Collection is inspired by natural organic shapes, from Rill and Clast Wall Hangings' evocation  of the smooth worn edges of river rock to the undulating wave-like movements in the Ripple Wall Hangings. The brass shapes are heated and hand-formed to create three dimensional compositions.
SHOP NOW >

DESIGNED TO INSPIRE
We believe art and design should be integrated into everyday life in meaningful ways to uplift and inspire.
Inside the Studio
Explore behind the scenes at our Austin-based studio. You'll be able to see the design ideas and process behind the collections, how we make the pieces, as well as our styling ideas for your home.