HANDCRAFTED PROCESS
Our black patina finish has a velvety, tactile quality like natural black leather. It is created by the natural chemical reaction that occurs after hand-dipping brass into a darkening solution. Each component is then methodically buffed and coated with a matte lacquer to achieve a satisfying and lasting finish. Individual variation in each piece adds depth and dimension to accentuate their unique handcrafted nature.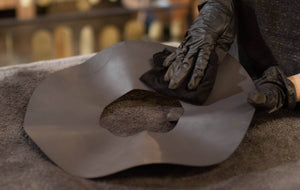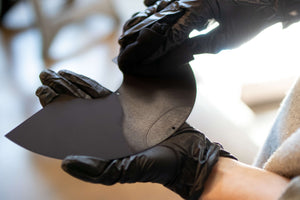 DRIP MARKS Are integral to BLACK PATINA'S
WABI-SABI SURFACE
Wabi-sabi is the Japanese aesthetic concept of celebrating the imperfect and transient, which connects us to nature. Wabi expresses the abundance of discovering simple beauty in less. It is the beauty that can be felt from natural imperfections rather than artificial materiality. Sabi is discovering the beauty of deterioration and aging. Objects have a character and life of their own, and they connect us to our own changes in our relationship with them.  The understated, asymmetric, flawed, and intimate—embracing what an object is rather than  what we think it should be.
Black patina pieces are for those who appreciate wabi-sabi, as each piece of brass has been hand-molded, dipped, and buffed with care and consideration. The drip marks on a black patina piece is evidence of its studio life, a life it had before it made its way to your space. 
BLACK PATINA
WALL HANGINGS AND MOBILES
BLACK PATINA AND POLISHED BRASS
WALL HANGINGS AND MOBILES
Shop now